The George of Stamford, in various guises, has offered 'food and drink' to those who entered its doors for over 1,000 years.
We pride ourselves on our 'ground floor' - restaurants, bars, lounges - log fires, squishy enveloping sofas, places in which everyone is made welcome and comfortable and received by attentive and personable staff. The 'back of house' are an amazing team, preparing and presenting incredible fare.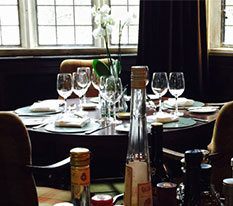 The Oak Room Restaurant is the 'jewel in the crown' of The George. Fine dining - with wines to match - in an absolutely superb setting. Make no mistake, this is an institution! Roast Beef, carved at your table from the silver domed trolley, accompanied by Yorkshire pudding, traditionally hot horseradish, mustards, gravy and roast, boiled and mashed potatoes - and a selection of vegetables, has become the dining room's signature dish. However the menu offers many simply delicious dishes - it deserves perusal! There is a very special 'magnum cave' by the door from the courtyard - well worth a quick viewing - or the full wine list to cast an eye over.
During the summer months, and between seasons, the à la Carte Restaurant has tables outside under the heated canopy. Very special indeed …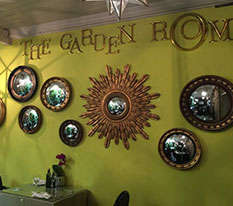 The Garden Room is a less formal restaurant which is open from 12 noon until late in the evening. This restaurant is a rare beast indeed - it is generally extremely difficult to find proper sustenance outside normal mealtimes - and therefore it has a pleasing hum all day, the hotel once again looking after those 'on the way through', 'locals', and visitors to our very special town. The menu covers many popular and extremely well prepared dishes - too many to mention!
The courtyard offers the Garden Room menu, allowing one to enjoy a relaxing time outside.
The Garden Room is busy, informal and fun, orchids, greenery and mirrors abound! Family groups, businessmen, lady lunchers and friends meeting 'halfway between north and south' enjoy the all day menu, the ambience and the hum of a great place to eat.
The York Bar , with its warming fire on chillier days, enjoys a great and well earned reputation offering a refuge from the hustle and bustle of Stamford. There is a bar snack menu of simple, but delicious, dishes which run alongside a great selection of draft and bottled beers, lagers and ciders, including Guest Beers. Wines by the glass, gin or vodka and tonic - many brands of each - all the usual suspects are there!
The Champagne Bar is at the heart of the hotel. Several marques of Champagne are offered by the glass, bottle or even magnum. An excellent choice of venue to raise a glass with friends, have pre-meal drinks, celebrate an occasion, or simply to just have a drink in a 14th century room of charm and character.
Afternoon tea is another George of Stamford institution. Simply scrumptious little cakes, scones with clotted cream and jam, finger sandwiches (crusts off!), steaming tea - what more could one wish for … maybe a glass of Champagne if that's not too decadent! In fine weather this can be taken in the courtyard, however cream tea and comfort go hand in had and there are many nooks and crannies in which to settle down and enjoy …